Depro is growing rapidly and has a good cooperation with large international companies.
The magazine Næring på Jæren has an article about Depro in the December issue. Here is a copy of the article (in Norwegian).
– Vi ser store muligheter som kommer. Vi opplever at stadig flere kunder kommer til oss og vil jobbe med Depro. Vinner vi like mange jobber som vi vanligvis gjør, da blir det ekstra gode tider i Depro, smiler daglig leder Kåre Stokkeland.
Tekst og foto: Dagfinn Hauge, Næring på Jæren
Før oljenedturen rundt 2015 hadde Depro 62 ansatte og var på vei inn i nye fabrikklokaler. Dårligere ordreinngang i nedgangstidene gjorde at de på det laveste var 29 ansatte. I dag er de 44 ansatte og på god vei mot nye høyder.
– I år har vi ansatt 15 nye medarbeidere og vi legger stadig ut nye stillinger, sier Stokkeland som legger vekt på at de ikke bare skal pøse på med folk men også ha fokus på økt verdiskaping gjennom effektivisering, sier Stokkeland.
For å sikre videre vekst mener Depro det er viktig at hele verdikjeden, og spesielt deres underleverandører som utgjør neste halvparten av omsetningen er konkurransedyktige i et internasjonalt marked.
– Vi er heldige  som har så mange gode leverandørbedrifter innenfor kort avstand fra Depro, sier forretningsutvikler Kenneth Olsen og mener at i gjennomsnitt vil en ny ansatt i Depro resultere i en ny ansatt hos deres leverandører.
Depro ser for seg at de skal øke omsetningen ganske mye fra der de er i dag. Innen kort tid vil de runde 200 millioner. Da vil de ha passert det beste året historisk sett, og det er en milepæl i den langsiktige planen.
– Vi skal bruke 2020 til å omstille oss og styrke staben enda mer. Samtidig jobber vi med prosjekter som kan gi oss mye arbeid og da må vi ha inn mange flere ansatte i løpet av kort tid.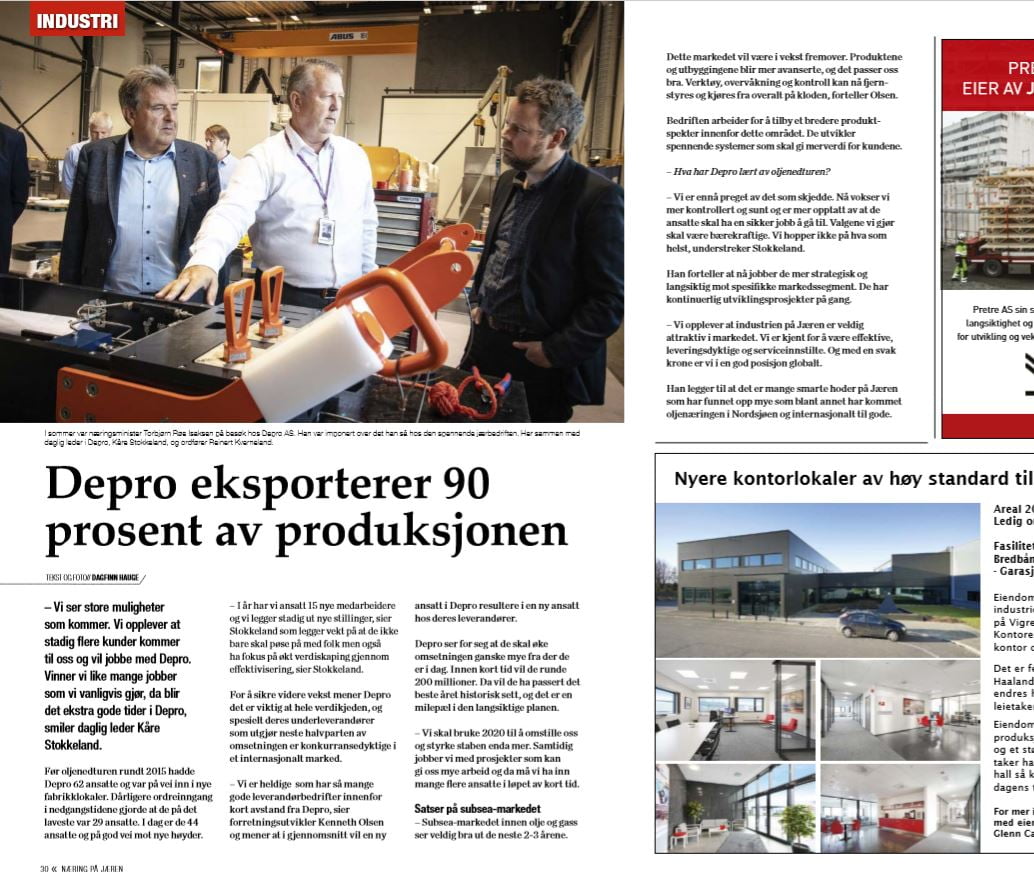 Satser på subsea-markedet
– Subsea-markedet innen olje og gass ser veldig bra ut de neste 2-3 årene. Dette markedet vil være i vekst fremover. Produktene og utbyggingene blir mer avanserte, og det passer oss bra. Verktøy, overvåkning og kontroll kan nå fjernstyres og kjøres fra overalt på kloden, forteller Olsen.
Bedriften arbeider for å tilby et bredere produktspekter innenfor dette området. De utvikler spennende systemer som skal gi merverdi for kundene.
– Hva har Depro lært av oljenedturen?
– Vi er ennå preget av det som skjedde. Nå vokser vi mer kontrollert og sunt og er mer opptatt av at de ansatte skal ha en sikker jobb å gå til. Valgene vi gjør skal være bærekraftige. Vi hopper ikke på hva som helst, understreker Stokkeland.
Han forteller at nå jobber de mer strategisk og langsiktig mot spesifikke markedssegment. De har kontinuerlig utviklingsprosjekter på gang.
– Vi opplever at industrien på Jæren er veldig attraktiv i markedet. Vi er kjent for å være effektive, leveringsdyktige og serviceinnstilte. Og med en svak krone er vi i en god posisjon globalt.
Han legger til at det er mange smarte hoder på Jæren som har funnet opp mye som blant annet har kommet oljenæringen i Nordsjøen og internasjonalt til gode.