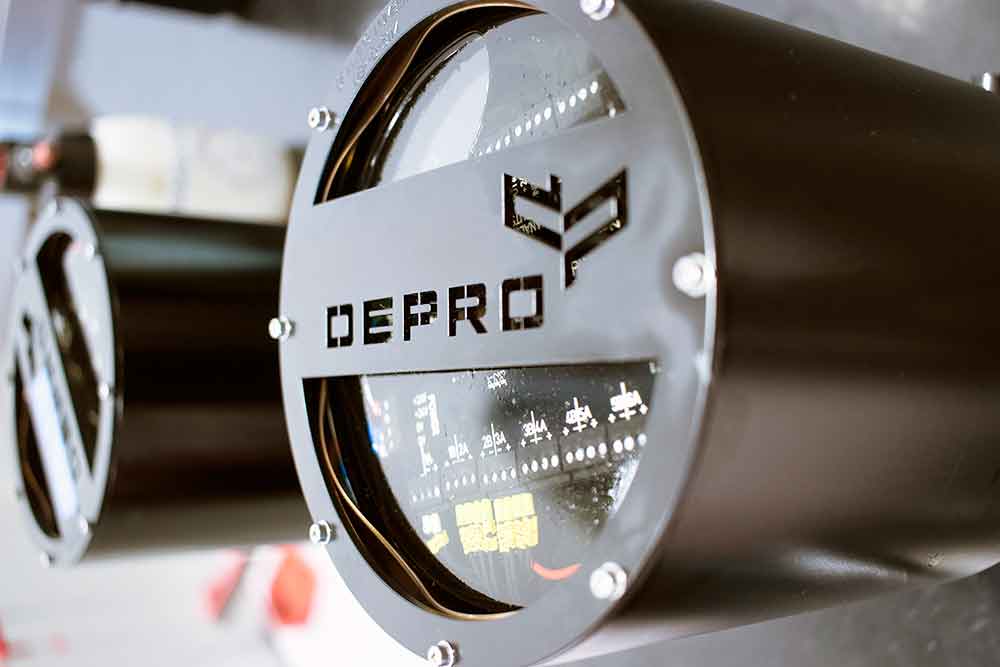 Tool Control Unit for hydraulic operations 2 lines
TCU is designed to control hydraulic tooling by delivering accurate flow and pressure to consumers. The unit can deliver 2 separate hydraulic lines containing 2 off 4/3-way proportional valves, gives individual flow control. All functions are controlled and monitored from surface control room.
Open source protocol gives the opportunity to connect to existing control system, or use Depro`s HMI Control & Logging
Software. The enclosure is oil filled and pressure compensated.
Specification:
Dept rating: 3000 m
Hydraulic inlet: 2 off 1/2″ BSP
Hydraulic outlet: 2 off 1/2″ BSP
Hydraulic outlet: 2 off 3/8″ BSP
Hydraulic line 1: 0-60l/min @ 0-207 bar
Hydraulic line 2: 0-20l/min @ 207 bar
TCU board – Analog Inputs: 4 (4-20mA & 0-5V)
One port can receive ASCII Code
TCU board – Digital Inputs: 4
TCU board – PWM Outputs: 6 x 2 (A&B)
Communication: RS232, RS485 and Ethernet
Supply Voltage: 24VDC
Material: Aluminium 6082-T6
Dimensions H x W: 301 x Ø175mm
Depro drawing: DEP-GA-0397
Option:
Seperate Topside HMI Control System
and 7″ display delivered in a Pelicase.
Depro Datasheet: DEP-DS-0441
Depro drawing: DEP-GA-0411
Link to product decription: