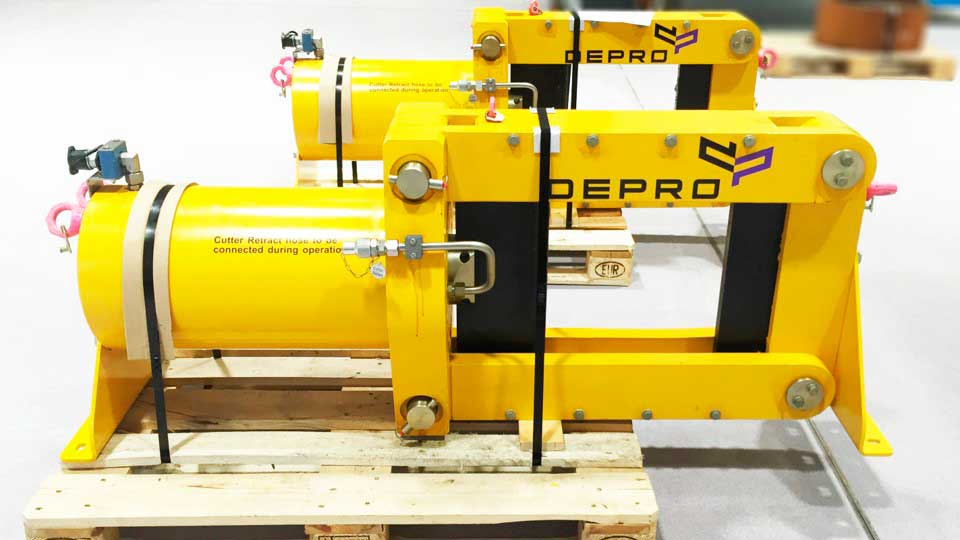 Cutter 360 Ton
Designed for use during installation of umbilical or cable.
Description:
The Cable Cutter is made to cut umbilical and cable up to 320mm. Also used for emergency situations where it is required to have in place an emergency system to cut the cable or umbilical during installation.
The frame / skid below shows a system with accumulator for the emergency system, and a positioner system for the cutter that can be moved sideways and up and down.
Specification:
Depro drawing guiding system: On request
Depro drawing skid: DEP-GA-0279
Maximum push force: 360 ton
Maximum cutting diameter cable/umbilical: 320mm
Maximum space inside the cutter: 360mm
Maximum hydraulic working pressure: 690 bar
Weight cutter in air: 900Kg
Dimensions cutter LxHxW: 1708x640x450 mm
Depro drawing cutter: DEP-GA-0239
Download Product Sheet: