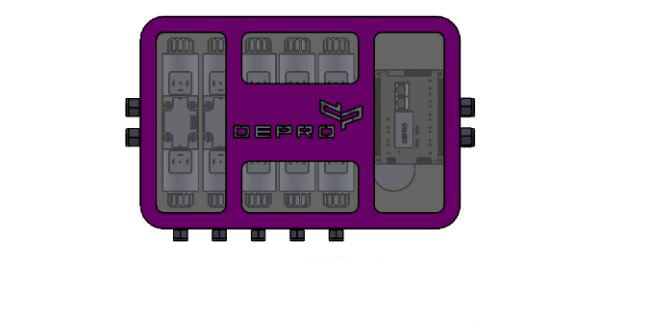 Tool Control Unit-TCU 5 lines
TCU is designed to control hydraulic tooling by delivering accurate flow and pressure to consumers. The unit delivers 5 separate hydraulic lines containing 5 off 4/3-way proportional valves, witch give individual flow control. More output lines can be generated by connecting more TCU`s together.
All functions are controlled and monitored from surface control room. Open source protocol gives the opportunity to connect to existing control system, or use Depro`s HMI Control & Logging Software. The enclosure is oil filled and pressure compensated.
Specifications:
Dept rating: 3000 m
Hydraulic inlet: 2 off 1/2″ BSP
Hydraulic outlet: 10 off 3/8″ BSP
Hydraulic line 1-5: 0-20l/min @ 0-207 bar
TCU board – Analog Inputs: 4 (4-20mA & 0-5V)
TCU board – Digital Inputs: 4
TCU board – PWM Outputs: 6 x 2 (A&B)
Communication: RS232, RS485 and Ethernet
Supply Voltage: 24VDC
Material: Aluminium 6082-T6
Weight in air: 13kg
Dimensions W x D x H: 410 x 270 x 220mm
Depro drawing: DEP-GA-0378
Option:
Seperate Topside HMI Control System and 7″ display delivered in a Pelicase.
Depro Datasheet: DEP-DS-0441
Depro drawing: DEP-GA-0411
Link to product decription: